Cost calculator plugins enable you to add an extremely useful feature to your WordPress website. They allow your site users to quickly and efficiently tot up a quote or price estimation for the products and services that they require.
Such plugins can be utilized to create either single or complex calculation forms that will efficiently provide potential clients with the information they need – making both their and your lives easier.
Here is an overview of some of the best price estimating calculator plugins currently available on the market.
Best WordPress Pricing Plugins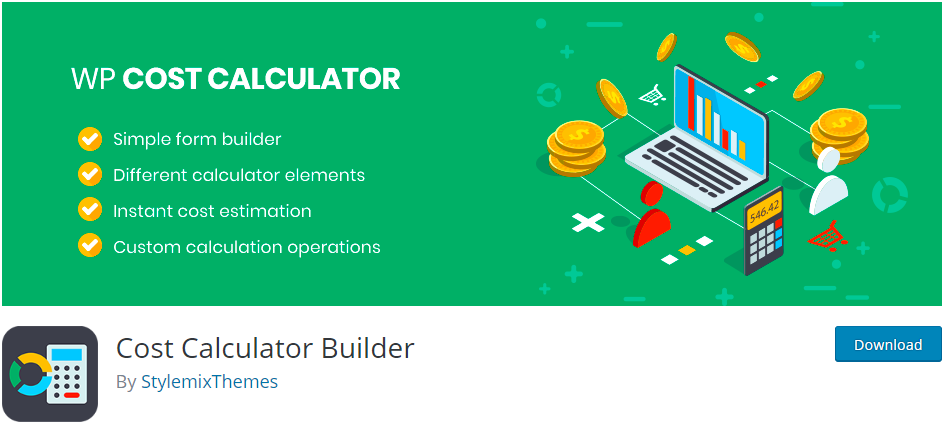 This smart and straightforward plugin has been custom designed to enable you to easily create item pricing forms to allow your clients to get information about your services and product costs.
The WP Cost Calculator helps you to build any type of estimation form in a few simple steps. The plugin additionally provides its own calculation builder. You can create an unlimited amount of forms and easily insert them directly on any page of your website.
Included as part of the plugin are eight separate calculator elements: an input box, drop-down box, switch box, checkbox, range slider, quantity box, textbox, and horizontal line. Simply add value to any of the elements, and the overall price, interest rate, loan calculator will be automatically calculated.
The free version includes most of the functions that other plugins provide only in paid options.
Furthermore, there is the option to upgrade to the premium add-on, which includes a unique of additional and functional features:
Woocommerce integration
reCAPTCHA
Import and Export Calculators
Calendar Fields
Payment Gateway (Stripe and PayPal) Integration
Contact Form 7
Several Forms in One Web Page
If a professional-level, fully customizable calculator is what you need for your WordPress website, then you couldn't really ask for more than the Cost Calculator Builder plugin.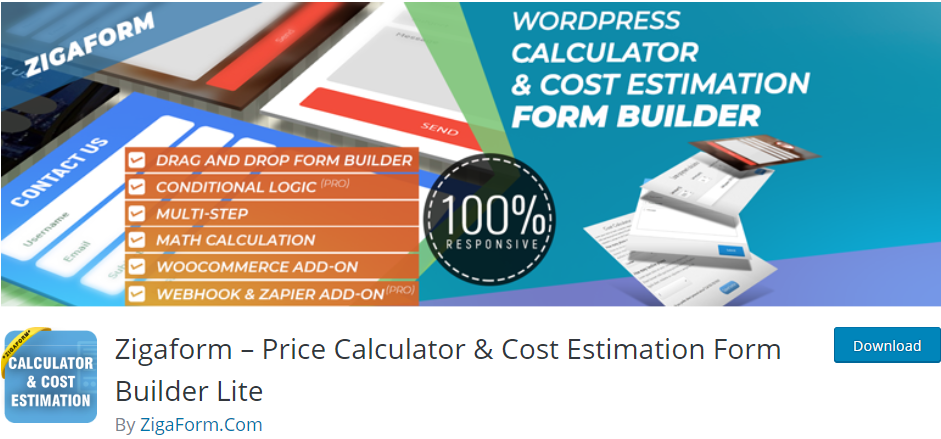 Zigaform WordPress Calculator and Cost Estimation Form Builder is a very flexible plugin that allows you to build an estimation forms in a few steps using a simple yet powerful drag-and-drop form creator.
The Zigaform plugin can be used for both single and more complex calculations. Each form section can be assigned a value that to be calculated automatically. Forms can then be submitted to both admin staff and customers with ease through the site.
The free version features are:
Real-time drag-and-drop builder for ease of form development
Cost estimation and calculation feature (math formula)
42+ pre-designed form elements that are ready to be used
Full skin customizer with live preview and an advanced grid system for building form estimators.
There is an option to upgrade to the premium version, which further offers online payment with PayPal, an invoicing feature, a summary estimate box, and instant checkout payment, among other things.
Overall the plugin allows for the creation of professional looking forms while allowing for automated price calculations and providing space for you to manage the various form options.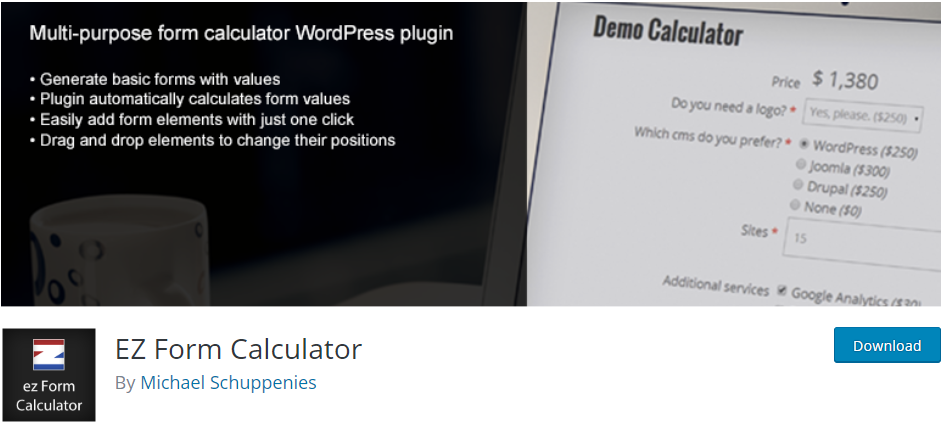 The powerful ez Form Calculator enables you to build form calculators, advanced cost estimators, and extensive contact forms on your website in minutes for a hassle-free way to handle the financial side of your business.
With just a few clicks of the mouse, you can easily add in form elements like checkboxes, drop-down menus, or radio buttons. The plugin allows each form element to be assigned a value so that calculations can be done on the form automatically.
In addition, it allows you to create response emails and PDF files that can be attached to emails and sent directly, saving you a lot of both time and effort. The plugin is also translation ready to extend your range to customers overseas.
What's more, the premium features offer unlimited forms to be used on a single site, over 30 different kinds of elements, endless elements per form, and 18 prefined templates, among other things.
All in all, ez Form Calculator is an incredibly versatile tool that allows for both simple and more complex calculations with compelling visuals and reliable background admin support.

The WP amortization calculator plugin is a professional and high-quality calculating tool. That can be utilized to easily adapt websites to cover calculations on a mortgage, auto, or any other kind of amortized loan.
The calculator is highly-customizable and easily inserted anywhere on the site that you wish – as either a page or a widget. It can even be used multiple times on a single website. The clean design will complement a large variety of WordPress themes.
The visual composer is already integrated, and you can quickly add your logo and info to the PDF and easily customize the email out to customers and others alike. The plugin is perfect for real estate agents as well as lenders.
Other features of this WordPress plugin are an excellent lead capture tool, modern design, intuitive and straightforward design, and quick and easy WordPress installation.
This versatile calculator will impress your site visitors with its expert design while supporting them in understanding the costs involved with obtaining a house mortgage. However, it is a little more limited in its uses than other cost calculators being that it has been designed explicitly for this purpose.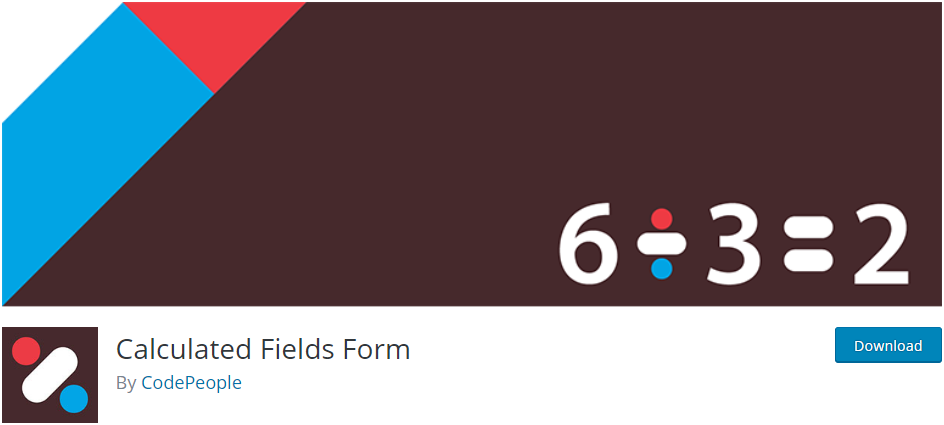 This feature-rich plugin will help you to create forms that have dynamically calculated fields to display the calculated values, and it can be used for creating both single and complex calculations.
Examples of what this straightforward plugin can be used for are ideal weight calculators, calorie calculators, calculate quotes for hotel bookings car rental service. Also, you can calculate quotes for appointments and services, loans, and finance and dates like for pregnancy due-date estimates.
Features of the plugin include:
Visual form builder with multiple fields
Form formatting options
Options to add any number of calculated fields
Predefined forms templates,
Various field type options, like drop-down, checkboxes, radio buttons, dates, numbers.
The Calculated Fields Form plugin is set up for integration with specific integration with a number of different editors, including Classic WordPress Editor, Gutenberg Editor, and Elementor.
This is an extremely versatile plugin that can be of use to a wide variety of businesses that wish to offer potential clients the ability to make either minor or more complex calculations.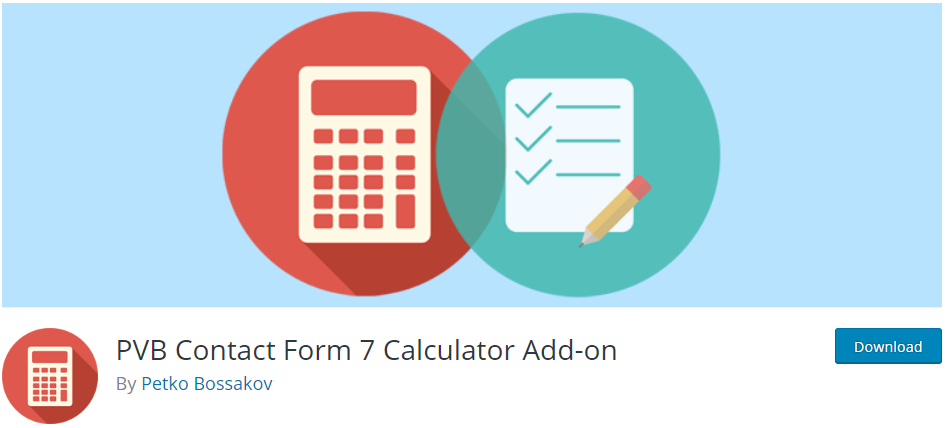 Some examples of the kind of calculators you will get with PVB Contact Form 7 Calculator are financial calculators, conversion calculators, health calculators, and math calculators. You will be able to customize and embed any of the calculators into your contact form.
Internationalization is also now available with this plugin, so you will have the ability to translate your calculator into various languages, opening up your website to more users and potential clients.
You will get the best use out of such a plugin if you offer a diverse range of services, or operate a company with a variety of calculation needs such as building and installation operations.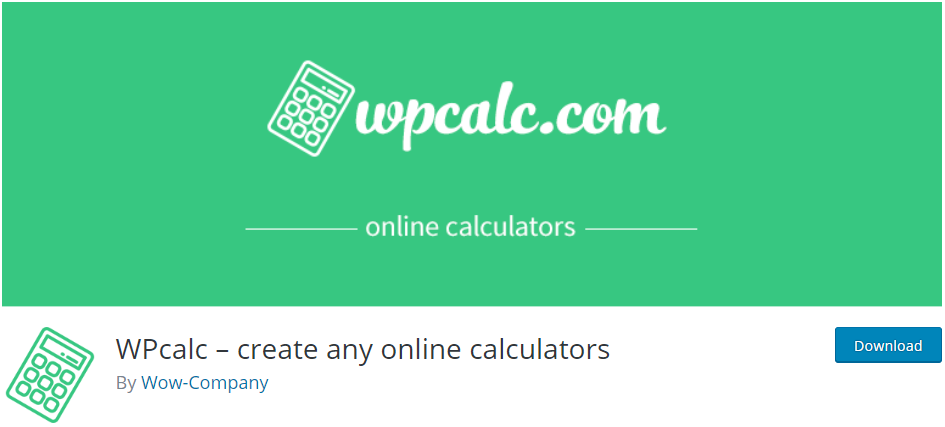 The WPCalc WordPress plugin enables you to be able to create your own online calculator for both your personal use and for customers who visit your website and are interested in the services that you are providing.
It is possible to add an unlimited amount of calculated fields, and the smooth and visual interface includes such aspects as checkboxes, radio buttons, drop-down menus, and input elements for the calculator.
With this plugin, it's possible to create up to three calculators to suit your various needs, and, with WPCalc, it is also really easy to make copies of any of the forms. All you need to do is click the "duplicate" button.
This WordPress calculator plugin also has a pro version available if you require any other kinds of features for your website. These include the ability to create an unlimited number of forms, integration with Mailchimp and Getresponse, options to send direct messages to users, and ease of copying and export of the contact list in .xls, .csv.
Overall, this is the perfect choice for small but smart businesses that need a highly adaptable calculator on their pages.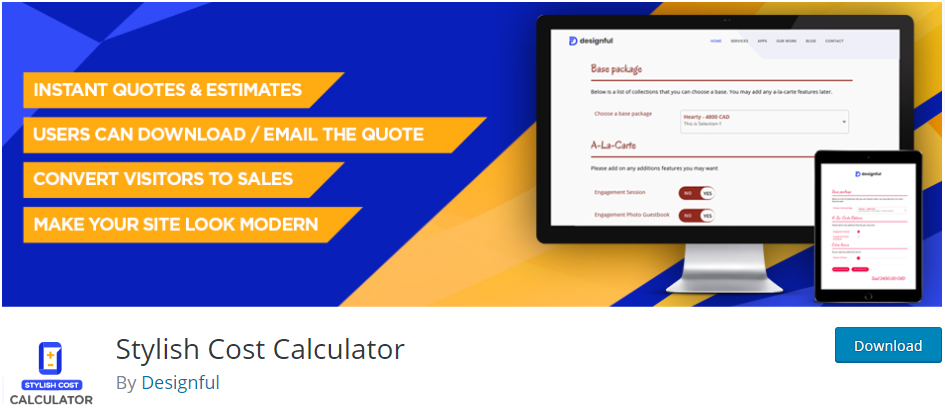 This powerful and elegant cost calculator can be used to provide your customers with a full quoting system. That will allow them to price up the goods and services on offer in a quick and efficient way. Once website users have inputted the details, they can opt to view, print, or email the quote, or purchase with Paypal at their own convenience.
Additional features included with the addon are:
PayPal integration
The option for you to provide coupons and discounts to potential customers
Language translation possibilities
Bulk discount feature
Full customization
Ability to add in animations to support the overall appearance of your website.
All in all, this plugin makes it extremely easy for you to develop and build a highly-functional calculator that your customers will find quick and simple to use.

FURTHER READING
---